We are nearly at the end of the Tree Council's National Tree Week 2022 – the UK's largest annual tree celebration. This year we want to help de-mystify all the horticultural terms frequently used to describe trees when you go to a garden centre to buy a tree.
Ornamental
An ornamental tree is one that is grown for its looks rather than what it produces. Examples include:
Amelanchier – this tree has pretty blossom in spring, berries in summer (popular with birds) and fiery foliage in autumn.
Arbutus Unedo – Grown for its fruit (non-edible) that look like Strawberries
Betula utilis jacquemontii – Grown for its white stem colour
Acer palmatum – grown for their breathtaking autumn leaf colours.
The opposite of an ornamental tree is a fruit tree – grown predominantly for its edible crops for example apples, pears, plums but equally can give visual appeal (the blossom in spring, for example).
Native
A native tree is one that lives, grows and reproduces naturally in a particular region. For the UK these are alders, Alder buckthorn, ash, beech, birch, blackthorn, crab apples, wild cherries, dogwood, elder. elms, hawthorns, hazel, hornbeam, limes, pines, rowan, whitebeams and most famously, oak trees. One benefit of planting native trees is that you will be benefiting wildlife. It's obvious once it's pointed out, but native British wildlife and native British trees have evolved to live together. Native trees provide homes, shelter and sustenance for native species of birds, small mammals, insects and other wildlife.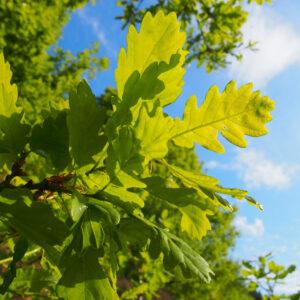 Whilst non native trees grow perfectly happily in the UK they wouldn't have done so naturally without humans introducing it to the area. In the Victorian period plant hunting was most prolific and companies like our very own Robert Veitch & Son were key to introducing many new species. Non-native varieties can be beneficial in terms of their height as some of our native trees can grow very big.
Root stock
The trees you buy from a garden centre will have been grown by a technique called grafting. This technique gives a saleable, strong and visually appealing tree within a year. Whilst a nursery can grow trees from seed it would take many years to reach a size that people would want to plant and additionally many trees don't always grow true to form from seed.
Grafting is effectively the act of joining two plants together. The upper part of the graft becomes the top of the plant and the lower portion becomes the root system and lower part of the trunk, A rootstock is the name given to the bottom plant and it is chosen for its vigour and resilience.
Most trees will be grafted onto their own species for example there are numerous types of birch with different qualities of their bark and stem colour. When grafting a variety of birch they will use Betula pendula (common birch) as the rootstock.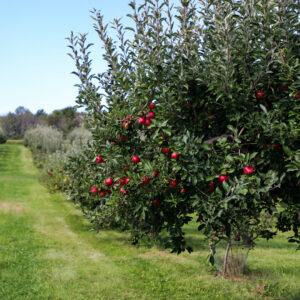 Fruit trees use rootstocks bred especially for the purpose and they are grown to control the overall ultimate height of the tree, They don't have particularly interesting names, indeed the rootstocks used for apples sound more like motorways that plants – (M27, M106, M25)! As our gardens tend to be getting smaller, demand for more dwarfing fruit trees has increased. A dwarfing fruit tree will reach about 8ft in ultimate height and so will enable fruit to be picked without the need of a ladder. This is very useful but be aware that by restricting the growth you will naturally have a smaller crop than a tree that grows to 20ft!
Quick Recap
When you go to choose a tree decide:
Do you want a fruit tree or ornamental tree? If ornamental, do you want a native tree or non-native tree?
Think about what you want from a tree i.e. spring blossom, autumn colour or year round interest?
How tall do you want the tree to be when fully grown?
Once you have thought more about your needs you are ready to go and choose some with your eyes. Look for what you like and then ask one of our team to advise on suitability of your choices for the position you have in mind. Our team will be pleased to help you make a selection.
For further information on National Tree Week, visit the Tree Council's website at: https://treecouncil.org.uk/seasonal-campaigns/national-tree-week/