March is the perfect time to start preparing your kitchen garden for an abundant harvest later in the year!
Start Sowing Your Vegetable Seeds
Starting off growth indoors or in the greenhouse is the perfect way to maximise the growing life of vegetables but you need to ensure temperatures are at least 10C before transferring young plants outside.
Alternatively, hardy vegetables are more resistant to frosts. By sowing their seeds indoors now, you help start them off to a strong growing life, but you won't need to worry about ensuring warm temperatures when you need to move them outdoors.
Cover areas of soil with black plastic or landscape fabric to help it warm up before you sow any seeds outdoors. Avoid sowing crops too early as there is still the risk of hard frosts!
Plant asparagus crowns (in well manured trenches) and softneck garlic varieties. We have these available to buy in the garden centre.
Plan Your Herb Garden
You can't beat using herbs that have been freshly picked from the garden. You don't have to have a separate herb garden, since most herbs are very attractive with ornamental flowers and foliage, and beautiful scents – making them great additions for mixed beds and borders. Even if you don't have a big garden you can grow most herbs in pots on the patio where they'll be handy to pick.
Many herbs can easily be grown from seed or you can buy young plants to grow on.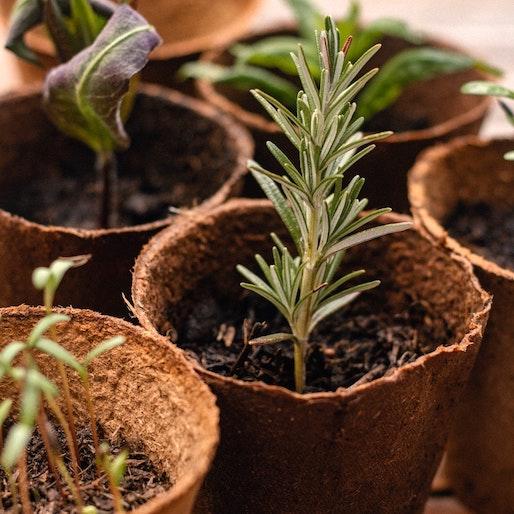 This month is the time to start sowing seeds for herbs inside so they are ready to move outdoors when the weather becomes milder and the threat of frost has subsided.
Both our garden centres stock herbs all year round and the varieties we stock will vary with the seasons so pop in to see what is flavour of this month.