Our Black Friday sale is back by popular demand and extended!
Our sale launches on Monday 22nd November 2021 and continues until 5pm on Tuesday 30th November 2021.
We have a variety of offers across the store, with some HUGE savings available. Here is an overview of what is on offer…
AQUATICS DEPARTMENT:
Minipond Filter 9000 5W: ONLY £90  Was £129.99 Barcode 5015368010528
Clearseal Drop off Gloss Grey Aquarium ONLY £800 Was £1299
Aquaforce Pump 8000 ONLY £200 Was £240.99
Hozelock Bioforce Revolution 9000 pond filter ONLY £250 Was £356.99 
Bioforce Revolution 9000+ Aquaforce Kit ONLY £400 Was £561.99
Bioforce Revolution 14000 Pond cleaning system ONLY £300 Was £431.99
Bermuda Pond Light Set ONLY £25 Was £35.99 
Dennerle Scapers Tank 55L ONLY £60 Was £90
Dennerle Scapers Tank 70L ONLY £80 Was £110
BULB DEPARTMENT:
25% off selected Spring Flowering pre-packed bulbs
Loose Tulip Bulbs – 45p each or buy 10 for £3.50
CAFE DEPARTMENT:
FREE coffee when you buy a £4.50 Bamboo Travel Mug
GIFT DEPARTMENT:
Well Groomed Gift Set ONLY £18 Was £25
HOUSEPLANT DEPARTMENT:
Baby Bio Drip Feeder 4 pack ONLY £3.50 Was £5.30
Citrus Plants (Lemon, Calamondin or Kumquat) ONLY £20 each were £35 each
IRRIGATION DEPARTMENT:
25% off the entire FloPro Irrigation Range
PLANT DEPARTMENT:
Buy any 2 Flowering Herbaceous Perennials and get a third plant FREE! Offer applies to selected plants in 2 litre pots.
TOOL DEPARTMENT:
Wilkinson Sword Deluxe Metal Bypass Pruners ONLY £12.00 Normally £21.00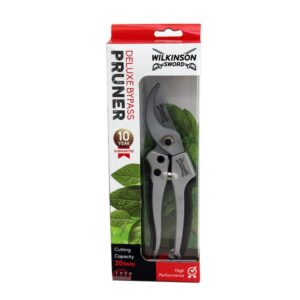 Wilkinson Sword Deluxe Bypass Pruners in box.
SEED DEPARTMENT:
25% off RHS Flower and Vegetable seed range
WEEKEND ONLY OFFER 26-28 NOV
20% off all Christmas decorations (excludes trees, artificial flowers and lights).
Don't forget our cafe has also launched its festive menu so make a day of it when you visit!
Our garden centre is open Monday to Saturday 9am to 5pm and Sundays 10am to 4pm, you'll find us on the Sidmouth Road at Clyst St Mary Exeter (EX5 1AE).
If you want to check a certain item is in stock before visiting, please call us on 01392 876281.
Offers available while stocks last.